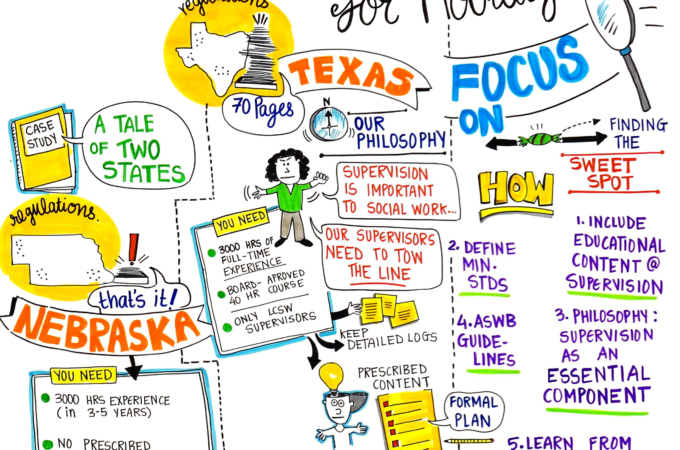 Thousands of social workers in the U.S. and Canada; 64 ASWB member jurisdictions; more than 50 different license titles. It seems almost insurmountable. Almost.
To earn a social work license, we often say that the licensing candidate must fulfill three E's: education, examination, experience.
Education.
Accredited social work programs require similar competencies for the BSW and MSW in both the United States and Canada; in fact, CSWE and CASWE mutually recognize accreditation by the other organization, so social workers with an accredited degree in the U.S. or Canada should be qualified for licensure in any state or province in either country. There are some exceptions in states where there are specific course requirements, or where the licensing board does not recognize CSWE accreditation. Still, the vast majority of states and provinces will accept an MSW or a BSW from an accredited institution as sufficient for licensure.
Examination.
The ASWB licensing exams are the only examinations used to evaluate competency to enter social work practice in the U.S. and Canada. The majority of ASWB member jurisdictions that use the examination are in compliance with the association's examination policy, meaning that clinical licenses require passing the Clinical exam, master's licenses require passing the Masters exam, etc. Further, examination score transfers can provide a window on the need for practice mobility and license portability, with the number of official score transfers more than doubling in the last ten years.
Experience.
Probably the greatest area of variation appears around the elements of supervised experience, including length of time and nature of supervised experience, how and where supervision occurs, and training requirements for supervisors. The good news is that 45% of regulatory boards have settled on the amount of supervised practice required for clinical licensure: 3,000 hours. And 47% of regulatory boards require the same number of hours of direct supervision: 100 hours. The ASWB Mobility Task Force is working to make the most of the middle ground on this issue and will be making recommendations as the task force's work progresses.