When disaster strikes, local resources are not always enough to meet community needs. What is true for supplies, labor, and money is also true for the services of social workers: They may need to come from outside the jurisdiction where a natural or human-made disaster happened.
Social workers responding in an emergency may wonder about their license status when providing services outside their own jurisdiction. In most cases, a social worker can help in the event of a governor-declared emergency, no matter where the emergency is.
Fourteen states have provisions in their social work licensing laws that permit temporary practice in the state during an emergency. Eight states have temporary practice provisions with requirements such as a governor-declared emergency, a license in good standing free of disciplinary action, working with a national service agency, or a maximum time period for practice using an out-of-state license. An additional eight states allow "nonresident consultants," professionals licensed in another state who are providing services temporarily.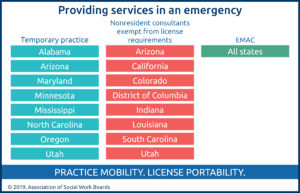 Another mechanism for temporary practice is the Emergency Management Assistance Compact (EMAC). Ratified by the U.S. Congress in 1996, all U.S. states and territories have entered into an agreement to share resources during a governor-declared emergency. The agreement covers assistance for personnel, equipment, and commodities. Article 5 addresses license reciprocity; where there is evidence that individuals have met qualifications for licensure in one state, they are considered to be licensed in another state when providing services in an emergency. EMAC recommends bringing a copy of your license with you in case it's needed to verify your credentials or for insurance purposes.
If you find yourself moved to take your skills and services to a distant disaster, make sure to check with the licensing authority where you are going to get the details for your situation.